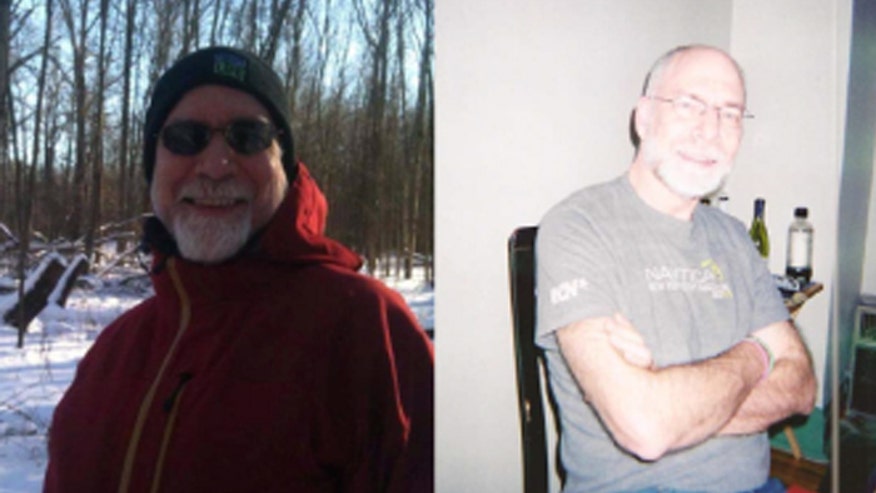 David Bird went for a walk in January and never returned to his New Jersey home.
An unidentified body was found in a New Jersey river not far from where a Wall Street Journal reporter disappeared more than a year ago, authorities said Wednesday night.
The remains were pulled from the Passaic River by dive teams about a mile from where David Bird vanished — on the border of Morris and Somerset counties.
Bird, an avid hiker and father of two, was last seen by his family on Jan. 11, 2014, as he was leaving his Long Hill Township, N.J., home to go on a walk. 
Bird, then 61, left his home without his cell phone. Despite extensive searches of the area — which included rescue dogs — authorities found no trace of Bird, a liver-transplant recipient and Boy Scout troop leader. He was last seen wearing a red rain jacket with distinctive yellow zippers, blue jeans and sneakers.
A positive identification has not yet been made on the body, Prosecutor Fredric M. Knaff and Long Hill Township police Chief Michael Mazzeo said in a joint statement Wednesday night. They did not say how long the body appeared to be in the river.
A family spokesman said in an e-mail Thursday that the family is aware of the find but had no comment at this time and is requesting privacy.
A $10,000 reward is being offered for information leading to Bird's return. The search for the missing father had been postponed for several weeks in January 2014 due to severe weather and heavy snow that blanketed the region through much of the winter.
Bird is described as 6 feet 1 inch tall, weighing approximately 200 pounds. He has gray hair and blue eyes and was last seen wearing a red rain jacket with two yellow zippers, blue jeans and sneakers.
Anyone with information on Bird's whereabouts is urged to call the Long Hill Township Police Department at 908-647-1800.