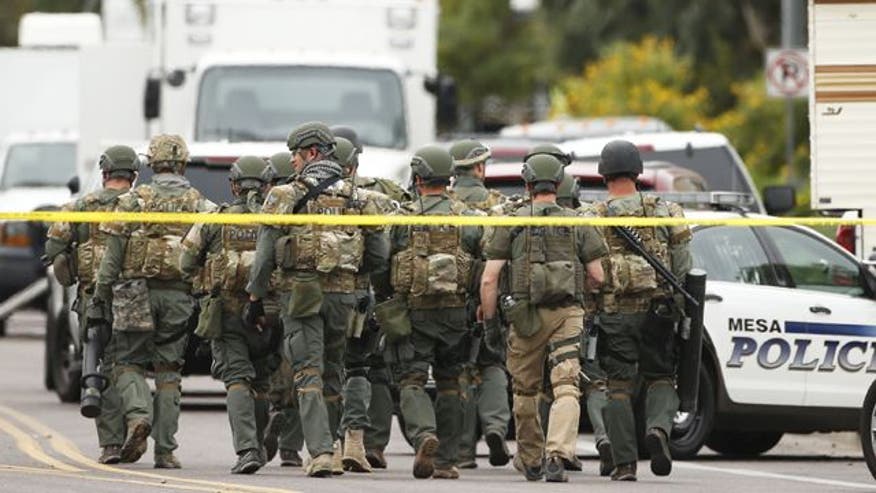 A suspect was taken into custody Wednesday after a shooting rampage left one person dead and five others wounded in Mesa, Ariz.
Interim Mesa Police Chief John Meza confirmed that the suspect, whose name was not immediately released, was in custody early Wednesday afternoon. A press conference was scheduled for later in the afternoon.
The suspect had been described earlier as being in his early 30s or late 40s with tattoos on his head and face and wearing a black shirt and shorts. However, police said he might have changed his clothing.
The morning spree included a shooting at a motel, a carjacking and a home invasion at a nearby apartment complex. The shooting prompted an intense hunt for the suspect as Mesa police searched the trunks of cars, interviewed witnesses and brought in SWAT and canine units from other agencies.
The incident started with an argument inside a room at a motel and spilled outside, and three people were wounded there, Mesa police Detective Esteban Flores told The Associated Press. The suspect then shot a person at a nearby restaurant and carjacked a gray Honda Accord. Two more people were wounded at separate apartment complexes, including one during a home invasion.
Several locations in the area were placed on lockdown amid a heavy law enforcement presence, including police searching car trunks and interviewing witnesses. The Arizona Department of Public Safety sent its SWAT team to Mesa to assist with the effort, DPS spokesman Bart Graves said. Scottsdale police are also sent SWAT and canine units.
The shootings occurred near the East Valley Institute of Technology. Nearby Mesa Community College issued an emergency alert, saying its campus was on lockdown and anyone already there should proceed to the safest location. The shooting scene is also near a light rail line that travels through the metro Phoenix area.
Vinny Carbone owns an auto body shop near the shootings. He was getting ready to open up when he heard a man yell "help, help." He later saw a woman outside the motel with what looked like a bullet hole in her side.
"Right now, our hearts and prayers are with the people of Mesa, the individuals affected by this tragedy, and all law enforcement and first responders working to assist the victims," Arizona Gov. Doug Ducey said.
The Associated Press contributed to this report.