As of the end of March, Warren Buffett's net worth is $70.9 billion. According to Forbes , he's the third-wealthiest billionaire and 12th most powerful person on the planet.
That's because Warren Buffett stocks are profit gold mines – and the " Oracle of Omaha " just made another gold mine out of the two most recognizable food brands in the world.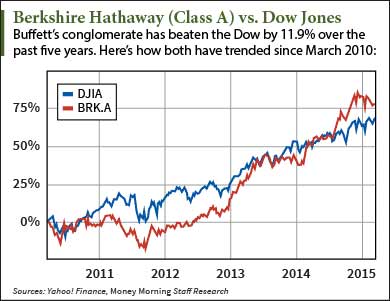 Yesterday Buffett's Berkshire Hathaway Inc. (NYSE: BRK.A , BRK.B ), along with Brazil's 3G Capital Inc., oversaw the merger of the H.J. Heinz Company and Kraft Foods Group Inc. (Nasdaq: KRFT ). It will be called the Kraft Heinz Company and become the fifth largest food and beverage company in the world.
Berkshire owned 192,666 Kraft shares as of Dec. 31. After KRFT jumped 36% or $21.87 in pre-market trade yesterday, that stake grew $4.2 million more valuable.
Buffett said he's liked the Kraft and Heinz brands for over 30 years and believes he'll like them 30 years from now.
"I am delighted to play a part in bringing these two winning companies and their iconic brands together," said Warren Buffett in a statement. "This is my kind of transaction, uniting two world-class organizations and delivering shareholder value."
That's just one of his stocks set for an interesting year. Here are 10 more Warren Buffett stocks to watch in 2015 for big gains…
Warren Buffett Stocks to Watch in 2015
Warren Buffett Stocks, No. 1: Deere & Co. (NYSE: DE ) manufactures and distributes agriculture equipment worldwide. It's commonly known by brand name, John Deere, and sells tractors, excavators, bulldozers, and lawn mowers, among other products. Berkshire Hathaway purchased 17.1 million shares last quarter. DE stock now constitutes 1.4% of Buffett's portfolio. Its share price is slightly down, losing 0.2% so far this year.
Warren Buffett Stocks, No. 2: Restaurant Brands International Inc. (NYSE: QSR ) is a fast food company formed during the 2014 merger of American chain Burger King and Canadian chain Tim Hortons. Last fall, Buffett added QSR to his fast food empire – which also includes 100% ownership of Dairy Queen and 9.2% of The Coca-Cola Co. (NYSE: KO ). Berkshire bought 8.4 million shares of QSR last quarter, comprising 0.3% of the company's portfolio. Restaurant Brands has dropped 0.7% this year.
Warren Buffett Stocks, No. 3: Twenty-First Century Fox Inc. (Nasdaq: FOXA ) is a global media conglomerate that owns assets such as Fox Broadcasting Company and National Geographic. According to 13F filings, Buffett bought 4.7 million FOXA shares in Q4 2014. It now makes up 0.2% of Berkshire's portfolio. FOXA stock has tumbled 10.8% since Dec. 31 despite a 10.3% revenue increase from Q4 2013 to Q4 2014.
Warren Buffett Stocks, No. 4: International Business Machines Corp. (NYSE: IBM ) provides hardware, software, infrastructure, and IT support across a range of computer systems. In 2014, it was ranked the fourth largest tech company in the world by market cap. Berkshire Hathaway upped its stake in the stock to 11.3% by acquiring 6.5 million more shares. That brings Buffett's total shares to 77 million. The tech titan represents 11.3% of Berkshire Hathaway's portfolio. IBM stock has lost 1.24% this year.
Warren Buffett Stocks, No. 5: Suncor Energy Inc. (NYSE: SU ) specializes in developing petroleum basins in Canada's Athabasca oil sands. It explores, acquires, and produces crude oil and natural gas. In the fourth quarter, Buffett increased his stake in Suncor by 21%. That's an additional 3.9 million shares, bringing Berkshire's SU holdings to 22.4 million. It comprises 0.7% of Berkshire's portfolio. Suncor's stock has plummeted 8.8% this year alongside oil prices .
Warren Buffett Stocks, No. 6: DIRECTV (Nasdaq: DTV ) is an American television service provider. The company sells and distributes digital entertainment programming to residential and commercial subscribers. Berkshire bought 1.4 million more shares of DTV last fall. The transaction boosted Buffett's ownership 4.5% to 31.4 million shares. DIRECTV's stock has dropped 1.4% so far in 2015.
Warren Buffett Stocks, No. 7: Charter Communications Inc. (Nasdaq: CHTR ) provides cable, Internet, and telephone services. As of Dec. 31, it served about 4.8 million residential Internet customers. Charter constitutes 0.9% of Berkshire's holdings after Buffett bought 1.2 million more shares last quarter. The purchase brought Buffett's total CHTR shares to 6.2 million. CHTR has been on a tear, gaining 9.8% so far this year.
Warren Buffett Stocks, No. 8: General Motors Co. (NYSE: GM ) has become known more for taking its products back than selling them. The company issued 34 recalls last year and just recalled 92,000 Chevrolet Malibu sedans with faulty sunroof controls. General Motors produces vehicles in 37 countries under 13 brands. Buffett purchased 1 million more GM shares in Q4. The transaction increased his stake in the company by 2.5% and brought his total ownership to 41 million shares. Despite the bad press, GM stock has risen 7.1% since Dec. 31.
Warren Buffett Stocks, No. 9: DaVita HealthCare Partners Inc. (NYSE: DVA ) offers healthcare services for patients with chronic kidney diseases. As of last year, DaVita operates in 46 states and serves approximately 173,000 patients. Berkshire boosted its number of DVA shares by 2.5%, adding 944,418 and bringing its total shares to 38.6 million. The company is up 7% in 2015.
Warren Buffett Stocks, No. 10: Viacom Inc. (Nasdaq: VIAB ) is a mass media company that creates TV programs, movies, games, consumer products, and other content. It's the fifth-largest American media conglomerate by revenue. Buffett increased his stake in the company's Class-B stock by 12% last quarter, bringing his total ownership to 8.6 million shares. Viacom makes up 0.6% of his portfolio. VIAB stock has fallen 10% so far this year.